Mr. Ole Ginnerup Schytz was stunned to discover more than two pounds of Gold treasure on one of his first Treasure Hunting adventures.
Schytz called the authorities in December 2020, just after his discovery. The Danefæ inspector, Peter Vang Petersen said that this is the largest archeological discovery for the Denmark National Museum in the past 40 years.
Denmark's National Museum and Vejlemeseerne archeologists excavated the site and determined that that trove dates back at least 1500 years ago.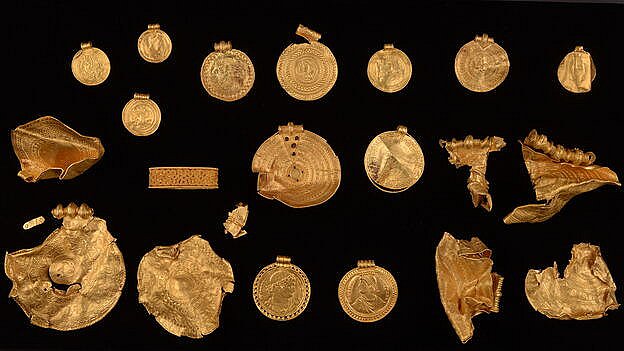 The cache was uncovered in the remains of a longhouse about 5 miles from Jelling, Denmark, in a previously unknown Iron Age village. Some of the pieces are engraved with a mix of known and unknown runes and symbols.
Included with the standard medallions are Roman coin pendants (bottom center), at least on rare Arabic coin, and other medallions that are as large as saucers.
Most of the medallions are thought to be protection amulets. These pieces show a mix of Roman Caesar worship and Nordic mythology in its infancy.
Read More:
"Found huge gold treasure by chance: "Looked like the lid on a can of acid flow." https://www.tvsyd.dk/tv2dk/fandt-enorm-guldskat-ved-et-tilfaelde-lignede-laaget-paa-en-daase-surstroemning
"Huge gold treasure found near Jelling: "Medallions the size of saucers." https://www.tvsyd.dk/vejle/kaempe-guldskat-fundet-naer-jelling-medaljoner-paa-stoerrelse-med-underkopper
Subscribe to get articles like this in your inbox!
See you next time on Pendant and Ring!